Lubrication and Electrical Systems
---
Lubrication Systems
Bevcorp's Orsco lubrication system is a cost effective and environmentally friendly solution custom mad to fit your needs.
Customer Benefits and Features
Cost effective solution, lubricating more efficiently
Greatly reduces oil and grease use, allowing for little waste
Easily controlled by PLC and operator interface
Stainless steel injectors
Stainless steel NEMA 4X encloser
Stand-alone unit can be installed by our service team or customer personnel
Size options available based on  the size of your machine and lubrication needs
Oil and grease  level indicator lights
Systems can be fitten with emergency CO2 and air dumps that can be locked out for added safety
Durable stainless steel lines that resist corrosion and damage during machine maintenance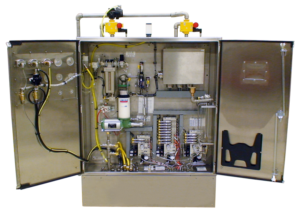 Electrical Systems and Upgrades
---
Electronic Level Control
Bevcorp's electronic level control package provide key customer benefits including more consistently accurate product fill levels and safe hands-off usage during filler operation.
Customer Benefits and Features
Allows safe hands-off operation during filler bowl run mode (charge/flood mode) and CIP mode*
Adaptable to all filler types and manufacturers
Provides filler bowl level percentage using 4 analong level transducers
Cold and hot fill application compatibilities
Smooth product transfers from the blender tank avoiding product agitation
Adaptable to all methods of product delivery (i.e. pump, pressure vessel, gravity, etc.)
Provides filler bowl pressure and temperature using analog transducers
Provides ability to monitor all filler bowl I/O points from included HMI
Flexibility to include other basic filler PLC* function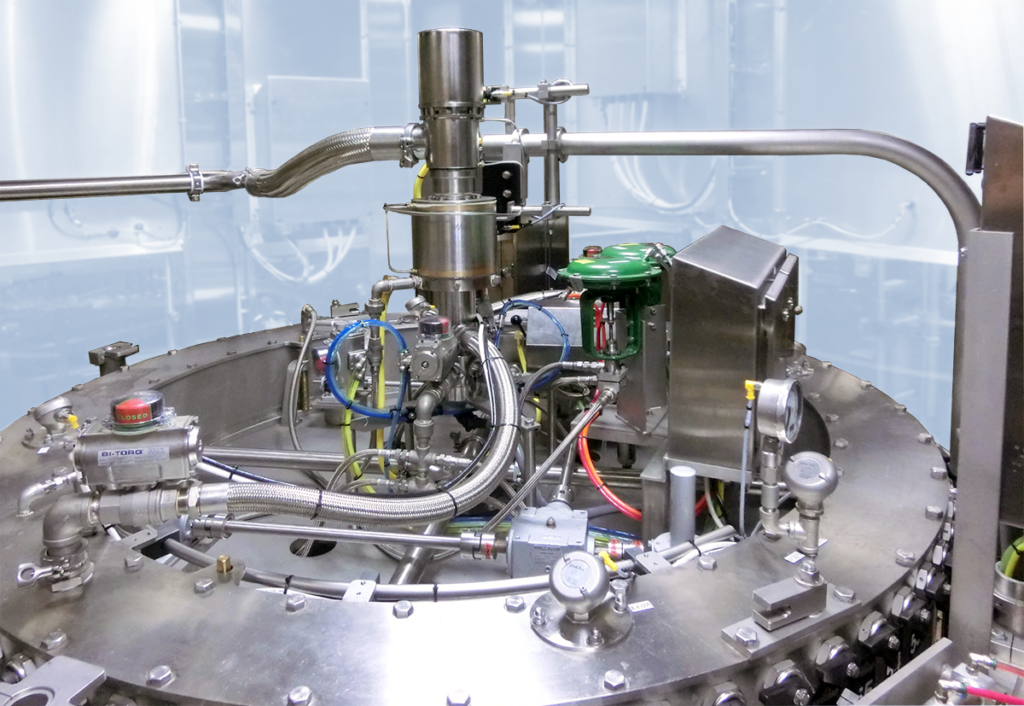 Electronic Undercover Gassing System
Bevcorp's programmable electronic undercover gassing system represents a major advancement over traditional, manual gassing systems that are used to displace air with CO2 or N2 prior to closing and seaming a beverage can. Electronic valves and regulators enable the entire gassing process to be controlled with precise measurement from an HMI or a remote locaiton. Additionally, the electronic system provides feedback in a continuous loop for automatic adjustment, or as random samples for an optional data collection system.
Customer Benefits and Features
Full HMI controls for precise, menu-driven management of time, gas pressure and volume
Password-protected controls provide security and tamper-deterrence
Simplified, menu-driven setup reduces changeover times
System errors generate instant alarms to notify operators, or stop production, minimizing wasted product
Real time error reports resulting in reduced maintenance and repair times
Diffuser provides consistent gas flow during startup and shutdown operations
Burst/jog mode allows for charging of single cans for testing or maintenance
Standard electronic gasser supplies both single or dual head seamers
Smaller footprint, occupying less than half the space
Hands-free seamer CIP via convenient HMI controls
Designed for both new and retro-fit applications