Used Equipment
If you're looking for a lower cost option, buying used equipment may be your solution! In addition to our capabilities to manufacture new beverage packaging equipment, we also re-manufacture pre-owned equipment including bottle and can fillers, seamers, crowners, cappers, blending and refrigeration equipment, and different beverage packaging parts. We have a large inventory of used equipment/parts available for purchase. Used equipment and parts are available "as is" or rebuilt. Please contact our sales team at 440.954.3505, sales@bevcorp.com, or by filling out our contact form.
REBUILT EQUIPMENT
120L Angelus Seamer – AVAILABLE FOR PURCHASE!
The Rebuilt Angelus 120L Can Seamer will be completely disassembled; all existing paint will be stripped from the castings. Castings will be sandblasted and prepped for Nickel Plating. All internal and external castings will be inspected to ensure they meet OEM specifications. Any casting found to be worn beyond useful life / out of specification will be replaced with new castings. All OEM Current Modification Updates to Upper & Lower Turrets.
Ask us about your eligibility for a trade-in credit on your current 120L and additional upgrades available for this seamer!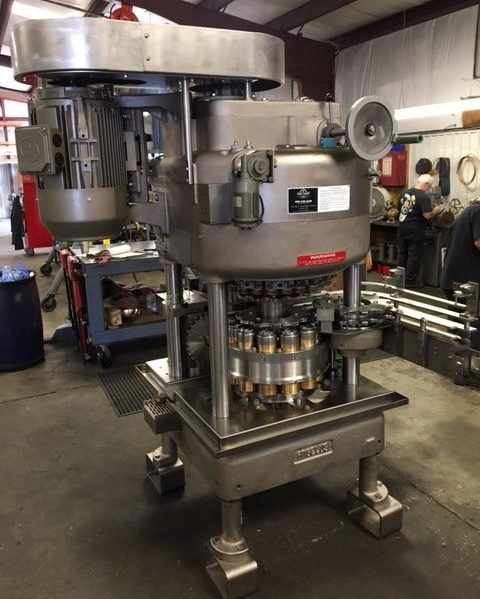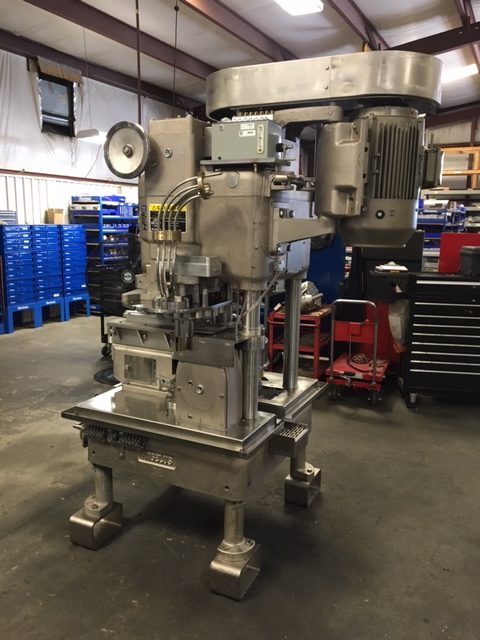 1st & 2nd Operation incremented Seam Setting Plate attached to the Lower Turret Guarding.
Nickel Plating.
New SS Seaming Spindles with Double Bushing Upgrade.
Upgraded Seaming Spindle Sleeves (New Style).
Bearings, Seals, O-rings, and Snap Rings.
Hardened Upper Turret Washers.
Lower Pinion Gear Oil Slinger.
Upper & Lower Lifter Assemblies.
Base Gearing.
Knockout Rod.
Seaming Lever Shafts and Bushings.
Face Seal & Rotor Assemblies.
Discharge Table Wear Plates.
Discharge Gearing.
80 Series Soft Rise Cam Package.
Safety Limit Switches.
Stainless Steel Lower Turret and Stainless Steel Baseplate.
Manzel Oiler.
Filler Drive, In-Motion Timer.
30Hp Motor with Belts and Guarding.
Motorized Height Adjustment Motor.
12 Month Warranty – Warranty covers the replacement of any component or components that fail prematurely due to a quality defect. Warranty does not cover component failure as a result of insufficient grease, oil and /or routine maintenance practices as described by the OEM.
Call (855) 349-2226 for more information!
72V Crown Can Filler Available Made-to-Order
Call 440-954-3505 for more information on how this 72V Crown Can Filler can be made to fit your needs!