Service
---
FILLING & FCI HANDLING DIVISIONS
With dozens of experienced technicians located throughout the U.S., we can dispatch to your facility at a moment's notice. In addition to our standard service, we provide comprehensive filler evaluations, make recommendations for repair and improvement, and submit complete parts list pricing as part of our audit process.
SERVICE BENEFITS
Emergency and scheduled repairs
Troubleshooting
On-site training
Parts installation
Complete filler rebuilds on-site
Filler installation, removal, and rigging
Audits
Specialized tooling
Experienced field technicians and mechanics
After-hours technical assistance, on-call 24/7
MICROBLEND DIVISION
Our field service technicians have extensive field repair experience. We can provide repairs, overhauls, preventative maintenance and upgrade kit installations.
SERVICE BENEFITS
Repairs and Troubleshooting
Equipment overhauls
Audits and system evaluations
Installation of machine upgrades and kits
Preventative maintenance for MicroBlend blending systems, Mojonnier carbo-coolers, and Mojonnier Flo-Mix systems
Phone technical support
AUDITS
---
Mojonnier Carbo-Cooler & Flo-Mix Processors
Process engineers can audit systems to:
Identify equipment capabilities
Identify deficiencies in blending units, service utilities, and refrigeration systems
Recommend upgrades to boost production capacities
Improve operating procedures
Diminish downtime
MicroBlend Processors
Process engineers can perform audits and evaluations to:
Ensure system is operating at optimum performance level
Verify calibration of components for flow, temperature and density integrity
Evaluate operating procedures
Provide software program backups
Inspect and identify items that may need replacement or repairs
EAST COAST SEAMERS DIVISION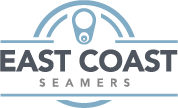 ECS can service, rebuild or overhaul your Angelus can seamer with quality parts, demonstrate how to maintain those parts for you, make sure they are working properly and train your plant's personnel on how to keep your can seamer in tip top condition while we are at it.
SERVICE BENEFITS
Preventive maintenance programs
Scheduled routine service
Change part installation/change-over
In-plant rebuilds
Conferencing and consultations
Audits
Start-up assistance
Angelus models: 60L, 61H, 62H, 80L, 81L, 100L, 101L, 120L
TRAINING
With over 60 years of technical can seamer experience, ECS is the smart choice for seamer training. We offer both classroom and hands-on training geared towards teaching mechanics, maintenance personnel and technicians, a comprehensive understanding of daily preventative maintenance, troubleshooting and critical point checks in the seaming process.
Basic equipment setup and adjustments
Double seam integrity training
Equipment troubleshooting checklist
Rapid changeover procedures
Change parts/ can handling parts installation
Double seam defect root cause – troubleshooting and analysis
Seam setting
Preventive Maintenance
---
Put your mind at ease by taking part in our annual preventive maintenance schedules for fillin, blending, handling, and seamer parts and service packages.
Customer Benefits and Features:
Budget for the entire year
Customize and plan preventive maintenance and service reuirements
Avoid emergency calls
Standardize filler and blender maintenance
Keep your equipment running at peak efficiency
Available Menu Items
Filler, seamer, and or/blender audit
One or two filler specific PM rebuild visits; includes parts and service
One blender specific PM rebuild visit; includes parts and service
One seamer specific PM rebuild visit; includes parts and service
Optional
Non-PM items identified during audit as worn and in need of repair/replacement
Independent performance inspections: handling parts and performance, DNC (Declared net content), filler, seamer and blender training, monthly visits/ "stop-ins"