Craft brewer's new can line is fast, flexible
by PAT REYNOLDS, VP Editor, Packaging World
Aviator Brewing paves the way for future growth with a can line that lets the craft brewer go after contract packaging opportunities. Shrink sleeve labeling plays a key role.
"We're offering a unique solution where we design the art for your label, we brew your beer to your specs, and we put it in cans and cartons—all for a single price on cases out the door."
That's how Mark Doble, founder of Aviator Brewing Co., describes the contract packaging business model at his craft brewing establishment in Fuquay Varina, NC. Not that Aviator is losing interest in its own-brand beers like Hot Rod Red, Hog Wild IPA, and Devils Tramping Ground Tripel. It's just that Doble believes that the path to future success in craft beer—a category that is still growing but is beginning to show signs of saturation—lies in expansion beyond one's own brands. It also hinges on packaging.
"With more than 4,000 craft breweries in the U.S., the competition for local tap handles in regional markets is increasingly fierce," says Doble. "If you invest in packaging, you can access a wider market than breweries that don't have packaging capabilities. But you have to get the packaging right, as in low dissolved oxygen content, bacteria counts that are kept firmly in check, and can seams that are tight. Packaging is our business. So if we invest in the wrong kind of packaging system, it puts our business at risk."
Aviator hasn't offered bottled beer since shortly after Doble launched the brewery—in a former airplane hanger, which explains the brewery's name—in 2008. He's a big believer in cans as the best format for beer, partly because he does a fair bit of export business overseas. "Zero oxygen gets into a can," he points out. "Light protection is better than glass. From a shipping perspective, the can won't break. It's also lighter than glass, not to mention that aluminum has a good recycling story to tell.
"We installed a new can line that is capable of handling our own brands as well as our contract packaging business," he adds. "Currently about 80 percent of our business is preprinted cans and the rest is shrink sleeve label. But by the end of this year I see about 40 percent of our business being sleeves. Our contract packaging is growing, a business that by its very nature is skewed toward relatively short runs. And whenever you're dealing with short runs, preprinted cans don't make much sense because minimum order requirements force you to buy far more cans than you need in a short-run business."
Label applicator
A Lanzara labeler from Axon is the shrink-sleeve labeler at the heart of the new can line. "It's perfect for when you just want to slam out 1,000 cases or so and then move on to the next beer," says Doble. "And the look on the store shelf is terrific. The printing on the label just really pops. The labels may cost between six and eight cents each, but it's definitely worth it."
Supplied by Labels, Tags and Inserts, the labels used originally at Aviator were a 50-micron PETG. In fairly short order the firm had moved down to 40-micron and it's now evaluating 35-micron. Among the reasons Doble specified Axon's Lanzara applicator is because he saw evidence that it would comfortably handle these thinner-gauge label materials, even at speeds to 400/min. The other reason? The shrink sleeve labeler replaced by the Lanzara was an Axon EZ 200 purchased about four years ago on eBay. "If we ever had any problems with that machine, the support we got from Axon was unrivaled," says Doble, "and a big consideration in our approach to buying machinery is the quality of customer support we get. So when it came time for a new sleeve label applicator, it was a pretty easy decision whose machine it would be." Nor did it hurt, he adds, that Axon is just down the road in Raleigh.
Another feature of the Lanzara that Doble likes is how easily Axon experts can access it remotely. "It's awesome the way they can just log into the machine and tweak it or adjust a software feature," says Doble. "The other day we had a motor that was overloading, and they jumped on the machine remotely and quickly recommended the motor needed to be replaced. What a difference compared to waiting for someone to come on site just to determine what it is that needs attention."
One thing that is conspicuously absent on the Lanzara are the dancer bars that many shrink sleeve label applicators rely on. In theory, these provide tension control for the incoming film labels. But according to Axon's Bob Williams, "We found that they put a lot of whip into the machine and complicated film tracking. So instead we use a vacuum box mounted on the side of the machine that provides the necessary tension control."
When Aviator is applying shrink sleeve labels to the cans it fills, line speed is 250 cans/min for 16-oz bottles and 400/min for 12-oz. "When we're not sleeving," says Doble, "we can go at 600 cans/min."
Depal is fit for purpose
It all begins with an overhead depalletizer from Ska Fabricating, a firm that grew out of Durango, CO-based Ska Brewing Co. As a co-owner of Ska Brewing, Matt Vincent spent a lot of time dreaming up ways of improving efficiency. He soon recognized that many other craft breweries were in need of equipment that was properly sized for craft brew volumes. So he and Dan Morris formed Ska Fabricating, whose flagship product is the Can-I-Bus Depalletizer. Designed with space and cost in mind, this is a slim-profile, semi-automatic system that's especially suitable for craft brewers. Capable of depalletizing multiple sized packages of aluminum, plastic, or composite materials, the Can-I-Bus is fully automated once the pallet is inserted into the machine and the straps and tier frame are removed. Ska Fabricating has now sold more than 280 depalletizers around the world and continues to develop more products with space and cost in mind.
Cans descend from the overhead level down an AV-C500 waterless twist rinser from A&E Conveyor Systems that uses high-pressure ionized air as the cleaning agent combined with a continuous vacuuming process at the opening of the container to help remove and collect debris that might be inside. "A&E was also very helpful in getting all the machines in the line integrated, though in fact we ourselves took responsibility for line integration," says Doble. "Among the biggest challenges was getting it all to fit in a really tight footprint."
At the discharge from the twist rinser is an ink-jet date coder from Domino that puts lot and date code on the bottom of each can. Then comes label application by the Lanzara. In addition to its features described above, it also takes an unconventional approach to the lighting system it relies on to communicate its operating state to plant floor operators. Most comparable machines use a light stack—typically consisting of red, yellow, green—so that operators can see if a machine is running smoothly (green), in need of attention (yellow), or stopped (red). The Lanzara, however, has shed its light stack in favor of lighting inside the machine cabinet itself. The theory is that operators have almost become desensitized to the messaging that comes from a light stack simply because they've been around them for so long. But when the entire interior of the Lanzara cabinet turns yellow or red, it's pretty difficult to not get the message loud and clear.
Also notable on the Lanzara is the sophisticated way its Schneider Electric controls package handles motion control where can conveying speed is concerned. Axon refers to it as "virtual encoder" technology. Here's how it works. A Schneider variable frequency drive (VFD) regulates speed of the conveyor feeding cans into the Lanzara. This VFD constantly sends real-time can position information to the Lanzara's main controller, a Schneider PacDrive 3. It amounts to an update every millisecond. Armed with this information, the PacDrive 3 then signals the VFD to modulate its speed if necessary so that each can is optimally positioned at the moment its label is to be applied.
The PacDrive 3 also brings film-feed position adjustment in real time on the fly. A Schneider Lexium 52 servo motor actuates the knife that cuts each label free from the roll. The instant it's cut it's pushed down onto a mandrel that has servo-driven nip rollers on opposite sides. These rollers not only propel the cut label down onto a can without ever losing control, they also advance the film so that the next label can be cut and applied. A clear strip between each label serves as an eye mark for maintaining registration. A contrast sensor from Tri-Tronics with a 30-microsecond response time looks for that eye mark and signals to the PacDrive 3 just where it is. If it has not been advanced to the proper position, the PacDrive will signal the Lexium 52 servo motor that governs the nip rollers to speed up or slow down accordingly.
Two steps to labeling
Label application is actually a two-stage process. Cans exit the first stage with labels that are pushed only about half way down. Stage two consists of rapidly spinning plastic "fingers" on opposite sides of the conveyor that quickly and efficiently push the label down to the bottom of the can.
Immediately after labels are on cans, a steam tunnel shrinks each label tightly to the contour of its can. Then cans enter a 72-head rotary filler from Bevcorp integrated with a Pneumatic Scale Angelus 120L seamer. A Filtec inspection device detects any short fills so that those cans can be automatically rejected.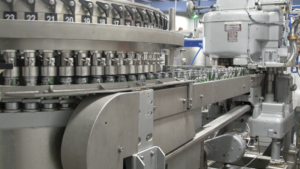 At this point in the line cans go down one of two paths depending on which format is called for. If plastic ring carriers are in the picture, the cans are collated in groups of four or six by a Mumm 450 () that applies a ring carrier. These four and six packs go into corrugated trays before palletizing. The other scenario has cans diverted instead to a Switchback cartoner that collates cans and encloses them in a paperboard carton. This versatile machine lets Aviator do 4-, 6-, 12-, 15-, or 18-count cartons. "That's definitely one of the things we like about it," says Doble.
Palletizing, for now, is done manually. "What we installed is all we could afford," says Doble with a laugh. On a more serious note, he adds this. "The level of automation we have now is something we have to grow into. There was a time, as we came to grips with the fact that we needed more capacity and we were evaluating our options, when we thought maybe something in the intermediate range was the way to go, maybe something like 200 cans per minute. But then we figured screw it, who wants to go through another installation process once we outgrow the intermediate stage. So we decided to skip all the intermediate stuff and invested instead in a high-speed line. It's an investment that is really at the core of the brewery itself. After all, you can make the best beer in the world. But if not enough people can get it because of packaging equipment constraints, what's the point?"